BRIGHTHAMMER
A downloadable pocketmod game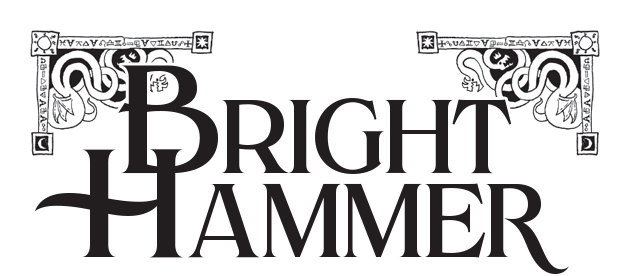 is a rules light, high fantasy roleplaying game
based on Sledgehammer by Gayhalforc
Made to print, pick up, and play; Brighthammer's three mini-zine format offers a rules set that encourages free-form collaborative roleplaying for high fantasy scenarios.

Brighthammer Player Handbook Zine:
Simple single roll D100 resolution system;
Quick and customizable character creation;
Character sheets included in the core rules booklet so you can print a copy and give one to each player.

Brighthammer GM Guide Zine:
Guidance for running the game;
Rules for Range & Distance and Perception;
Advice for Magic and spellcasting;
Sample Non-Player Characters;
Guidelines for Traps.

Brighthammer Bestiary Zine:
Collection of 28 classic fantasy foes, malignant, monstrous, and magical;
Entries divided into three tiers: low-, mid-, and high-level foes;
A half-page section on Dragons.

Third Party Content
If you want to create your own content for Brighthammer just include the following text in the description:
"Based on Brighthammer by HyveMynd. [INSERT NAME HERE] is an independent work compatible with Brighthammer but not affiliated with HyveMynd."
You can also use this logo:

What you absolutely cannot do is make content for Brighthammer that promotes racism, fascism, sexism, homophobia, transphobia, etc. Not even Brighthammer villains are those things.

Based on Sledgehammer by Gayhalforc. Brighthammer is an independent work compatible with Sledgehammer but not affiliated with Gayhalforc.
Art by HodagRPG. Border elements by Feral Indie Studios.

Download
Click download now to get access to the following files:
BRIGHTHAMMER_Pocketmod_A4.pdf
3 MB
BRIGHTHAMMER_Pocketmod_Letter.pdf
3 MB
BRIGHTHAMMER_Screen_Pages.pdf
702 kB
BRIGHTHAMMER_Screen_Spreads.pdf
678 kB